Artist Denise Brown Chosen
Again for Trail of Painted Ponies
"Old Country Store" Themed Pony Selected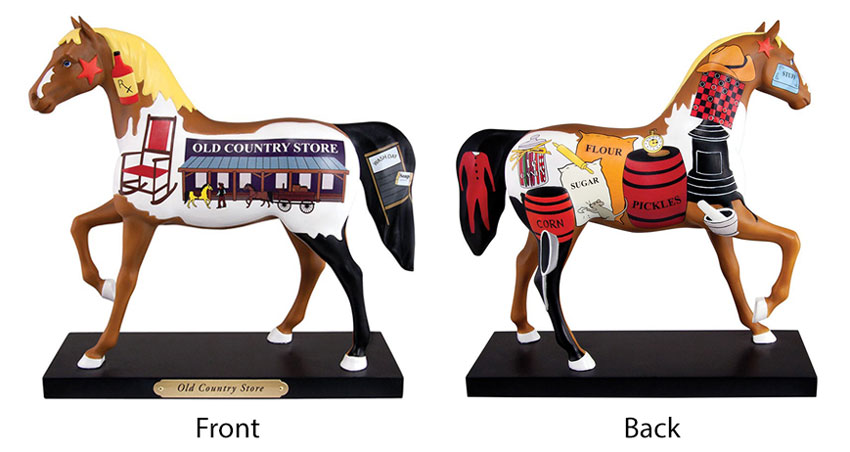 Old Country Store was inspired by warm childhood memories of a general country store in this artist's New Hampshire hometown. It had a hitching post out front, old-fashioned rocking chairs on the porch, and its jam-packed interior was heated by a pot-bellied stove. Once upon a time, country stores were a community's stagecoach stop, town hall, post office and library, as well as unique shopping destinations where you could find just about everything under the sun – from staples like flour and sugar to pots and pans to long underwear, and even the occasional store mouse.

• Title: Old Country Store
• Artist: Denise F. Brown
• Medium: Resin
• Measures: 7-1/Ž2" high

$40 + $8.95 shipping = $48.95

A limited number of Autographed Edition Figurines and hand-numbered by the artist with a Certificate of Authenticity are $75 each.
---
PORTSMOUTH, NH--Local artist Denise F. Brown of Portsmouth, NH has once again had her artwork selected for the prestigious Trail of Painted Ponies. Her one-of-a-kind design for the "Old Country Store" painted pony will be made into a collectible and sold this summer by Trail of Painted Ponies.

The Trail of Painted Ponies began in 2000 when a New Mexico sculptor created a life-size painted pony which was auctioned to raise money for charity. The effort was so successful, that a call went out for other Southwestern artists to do the same. The result was more than 120 artists creating  life-size painted ponies which generated $1 million for nonprofits. Exquisite miniature replicas, based on the original painted ponies, were then produced for sale, and have since become one of the most popular collectibles in the country. Eight new designs are offered each year and the colorful horses are intricately decorated with artwork representing myths, history, memories, Native American lore, philosophies, and more.

Brown, a well-known water colorist and graphic artist, was first chosen to submit a design to Trail of Painted Ponies back in 2006 when she was one of 20 finalists selected for a nationwide competition. The only artist from New England, she created "Abenaki" which featured symbolism of the Native American tribes of the same name, as well as nature elements from this region. "Abenaki" was chosen by popular vote to be made into a collectible.

In 2012, Brown's pony "Icicles" was made into a collectible; it is dramatically rendered in shades of blue and white and captures the natural beauty of winter.

Her most recent selection, "Old Country Store," salutes typical small-town, New England country stores, and evokes memories of a similar store from Brown's childhood growing up in Rye, NH. "I used to go down to Pettigrew's store, which was also the post office, almost every day to collect the mail and buy some penny candy," she says. "These wonderful little stores sold everything under the sun and were community gathering places, Pettigrew's had a hitching post out front, rocking chairs on the porch and an old-fashioned pot-bellied stove that heated the entire place. Inside, it was jam-packed with all kinds of goods."

Brown's pony is handsomely decorated with images of the store front, apothecary jars, frying pans, red long-johns, a washboard, and other examples of old-time sundries. It is made of resin and stands 7.5 inches tall.

"Old Country Store" will initially be available through www.trailofpaintedponies.com. Brown will be taking autographed pre-orders starting in May. Eventually, it will also be sold in local gift shops.

To see images of Brown's other painted ponies and artwork, please visit www.raccoonstudios.com.

To place an order for an autographed pony, or for more information, call (603) 436-0788.

© 2015 Raccoon Studios & Denise F. Brown. All Rights Reserved.

<